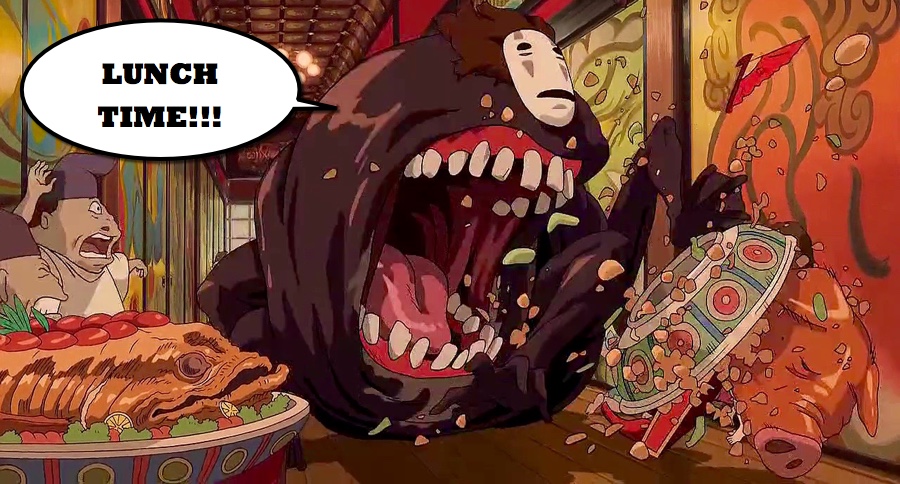 No matter how you stir it, slice it or serve it, more often than not, teaching public school a full-time job. This means your schools are going to become like a second home of sorts. This is true whether your teaching in the U.S. or teaching in Japan. Spending lots of time at your schools, for many teachers, means that you'll end up eating there pretty regularly, namely during lunch time. Among the many delightful differences between Japanese and American public schools is the public school lunch.
Growing up, I was definitely one of the "brown-baggin'-it" kids who brought lunch from home as an elementary schooler. Even on the days when Mom was rushed for time, public school lunch just couldn't come close. As I became a high-schooler and got more into nutrition, while my lunches weren't as tasty as when Mom made them, I realized that the only way I was going to get the protein and things I needed was to make my own stuff. I can literally count on one hand the number of times I ate cafeteria lunch.
When I say public school lunch, what images come to mind? I'll tell you what pops in my head, and I'm not trying to be funny or cruel, but I see I a heavyset woman with plastic gloves and a hairnet, taking a ladle, dipping it into a giant metal vat of mystery goo, plopping it onto my plastic, yellow-and-white tray as a travel down the assembly line of "mysterious goodness." Don't get me wrong, I think public school lunch is essential (in the U.S.) because there kids who, sad to say, who might not get to eat otherwise. Sometimes I would look at school lunch, look at my own, sad for the kids who HAD to eat the school food.
Teaching public school in Japan, though, I almost never saw anyone carrying a lunch from home, unless there was a day on the calendar (generally specified in advance) where everybody knew to bring their lunches. Nearly every kids would eat the school-made lunches. If kids had food allergies, the school would be notified and the staff would make adjustments to that child's lunch (crazy, right?)
Having eaten public school lunch in the U.S. and here in Japan, I have to admit that I think Japanese public school lunches (給食, kyushoku) BEAT THE PANTS OFF the lunches I remember at my elementary school (except for maybe pizza day). Why?
HEALTHIER INGREDIENTS, MORE BALANCED MEALS
While there were large containers for serving food, I was pleasantly surprised to see balanced meals on the students' plates. I liked there there was a protein source, vegetables, carbs and milk to power the kids through the last half of the day. There were days where some of the lunches went a little overboard on carbs, but in general I was quite impressed with how balanced things were.
I liked seeing parts of the meals that were cooked right there at the school each day (namely soups). I liked seeing fish, fresh tomatoes, green lettuce (as opposed to browning, wilting lettuce). I liked seeing kids smiling while they ate their vegetables instead of just eating around them or tossing them.
THE COZIER, JAPANESE SCHOOL LUNCH
One of the teach-in-Japan culture shocks I experienced when I taught at my first public school? There was no cafeteria!!!! I looked and looked for one and never found it. I can only speak to kindergarten and elementary school (but I'm sure it's the same for middle and high school here in Japan, too). 95% of the time students eat their lunches right in their classrooms. A group of students will don aprons and plastic caps and serve their peers!
I think having no cafeteria, having lunch be something that everyone is responsible for, including the teachers & kids, makes it an entirely different experience. You're not ladling out food as fast as you can for the masses. You're having lunch with your class and your teacher. I'm sure there are benefits to the cafeteria-style lunch, too…but I the smaller, cozier lunch-style puts a tally mark on the lunch quality side of things, at least from my perspective.
WHERE'S THE JUNK?
I remember there being a soft-serve machine in my high school. If you had the money, you could get ice cream. I've so little junk food in the Japanese schools I've taught for (I can't even remember seeing kids chewing gum!). Where were the vending machines with all the chips? Where was the candy lady's house (LOL)?
I have mixed feelings about this. I wholeheartedly agree that kids should be eating the good stuff 90-95% of the time, but treats every now and again aren't a bad thing. But that may also be the reason why the vast majority of the children here are slim. Last I checked, wasn't obesity a major childhood issue in the U.S.? (I wonder to what extent it's an issue in other countries)
To give you a sense of what Japanese school lunch is like, I wanted to just show you pictures of ten random, days of Japanese school lunch: いただきます! (ITADAKIMASU!)
**The reason why I just say "soup" in each of the pictures is because I honestly don't know the names. I apologize for that in advance. If anyone knows…there's a comment space below just begging for your to post 😀 your info!**
The typical Japanese style lunch consists of rice, some form of protein (fish, chicken, beef, etc.), vegetables, soup, and milk. Overall the meals are well balanced and often really tasty. IF you're a teacher here in Japan, what are lunches like at your school? I'd love to see pictures if you feel like sharing! 😀
The following two tabs change content below.
Donald Ash is an ATLien expat who has been living in a Japanese time warp for the last six years. While in aforesaid time warp, he discovered that he absolutely loves writing, blogging, and sharing. Donald is the creator, writer, designer, editor, programmer, and occasional bad artist of
thejapanguy.com
blog (that's just way too many hats, dude). Wanna know more about this guy? Check out his
"What's Your Story"
page.