(updating…)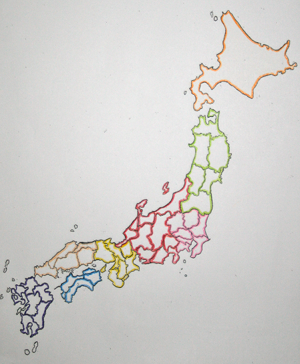 I still consider myself to be quite the novice as far as my Japanese knowledge is concerned. There is so much of the language that I just haven't learned yet, so much about the history that I don't know, and so much about Japan's Geography that I'm simply unfamiliar with. But that's what makes Japan so intriguing for me. It's an adventure each and every day. Geography in particular has always been one of my weaknesses (history too) even in the United States, because I just wasn't interested. However, being here has really sparked an interest to learn more about the lay of the land.
I sometimes hear my students talk about regions of Japan they've visited or will visit for work. I often get these regions mixed up with the prefectures…even now. I've decided to take the proactive approach, to learn specifically what Japan's regions and prefectures are, and how they differ. We know that Japan has forty-seven prefectures. But how many regions does it have?
Japan's Regions
Japan is made up of eight different regions (going from northern Japan to the southwest):
1. HOKKAIDO (ほっかいどう : 北海道)
The Hokkaido region simply the Hokkaido prefecture, and why not? It's big enough.
2. TOHOKU (とうほく: 東北)
The Tohoku area consists of the six, northernmost prefectures on Honshu (Japan's main island): Aomori, Iwate, Miyagi, Akita, Yamagata, and Fukushima.
3. KANTO (かんとう: 関東)
The Kanto area consists of seven prefectures in the eastern region of the main island: Ibaraki, Tochigi, Gunma, Saitama, Chiba, Tokyo, and Kanagawa.
4. CHUBU (ちゅうぶ: 中部)
The Chubu region includes the nine prefectures that lie in the heart of Japan's main island: Niigata, Toyama, Ishikawa, Fukui, Yamanashi, Nagano, Gifu, Shizuoka, and Aichi. Chubu has the largest number of prefectures in it's region.
5. KANSAI (かんさい: 関西)
Seven prefectures of southwestern area of Japan form the Kansai area: Mie, Shiga, Kyoto, Osaka, Hyogo, Nara, and Wakayama.
6. CHUGOKU (ちゅうごく: 中国 or
ちゅごくちほう: 中国地方)
The Chugoku region includes the five, southwestern-most prefectures of Honshu: Tottori, Shimane, Okayama, Hiroshima, and Yamaguchi.
7. SHIKOKU (しこく: 四国 or しこくちほう: 四国地方)
Shikoku has the fewest number of prefectures in it's region. The four prefectures are Tokushima, Kagawa, Ehime, and Kochi.
8. KYUSHU (きゅうしゅう: 九州)
Eight prefectures make up the final region of Japan: Fukuoka, Saga, Nagasaki, Kumamoto, Oita, Miyazaki, Kagoshima, and Okinawa.
Just an ending note, for regions six and seven, Chugoku and Shikoku, the chihou (ちほう, 地方) at the end of the name means area, region or district. Oh, I almost forgot! A good thing to keep in mind is that Japan is made up of five islands.
Japan's Five Islands
1. Hokkaido
2. Honshu
3. Shikoku
4. Kyushu
5. Okinawa
If you notice, the names of all islands, with the exception of Honshu, correspond to the names of the regions. So, that means, if you know your regions, you will also know the five islands of Japan. It's a nice bonus.
Here's a video to show what these areas look like on a physical map:
(video will post over the weekend…)
Donald Ash