YIKES! It's April 30th already??
What's so special about the 30th? Well, today last day to register for July 6th, 2014 JLPT test. With so little time left, the best way to sign up, if you still wanna take it is to register online.
Today we'll walk through all the steps, from start to confirmation, to get yourself registered to kick some JLPT arse!
There are three basic parts of the registration process:


1. Get a "MyJLPT ID"
2. Select Your Exam
3.Pay the JLPT Registration Fee
Initially, I thought online registration was going to be a lot harder than it really was. But if you can find a website on the internet, locate your nearest convenience store, press some buttons, and make a payment at a convenience store counter, you too can sign up for the JLPT.
Although some of three basic parts will have more steps than others, don't get caught up in the mini steps. This should be quick, clean, and easy.
Let's go through it together:
PART ONE: GET A "MyJLPT ID"
The online registration process happens through the Japan Educational Exchanges and Services Website, better known as JEES. Through this website portal you'll get confirmation emails for each of the registration steps.
STEP 1: Visit the JEES website http://info.jees-jlpt.jp/
STEP 2: (Optional) Click the "English" option
STEP 3: Click the "Acquisition of MyJLPT" button
STEP 4: Select the "Individuals" Option
STEP 5: Choose a Site Language
STEP 6: Fill Out The MyJLPT Registration Form
STEP 7: Double Check Your Personal Info
STEP 8: Check Your Email For Your MyJLPT ID
PART TWO: ONLINE REGISTRATION
STEP 1: Select the 'Login' Option

STEP 2: Enter Your MyJLPT ID & Password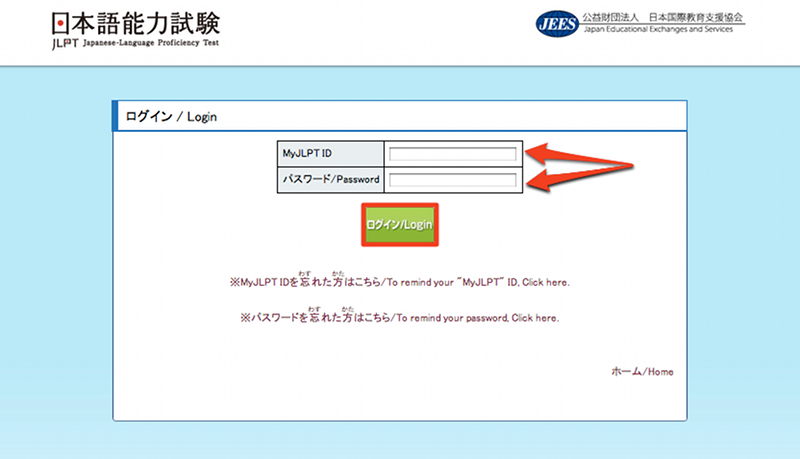 STEP 3 Click the 'Examination Application Tab
STEP 3: Agree To the Privacy Policy
STEP 4: Choose your level & Complete the Registration Form
STEP 5: Don't Forget Your Photo!
STEP 6: Choose a Payment Method
STEP 7: Select Your Nearest Convenience Store
STEP 8: Confirm Your Test Info
Although it's not pictured here, the confirmation page will simply show you all of the information that you've entered. Double-check or even triple check to make sure you've entered the right information (namely the test level and your address).
STEP 9: Your Online Application is Complete
PART THREE: PAYING FOR YOUR JLPT TEST
For this particular example I'm going to use Lawson's Loppi system to show how to make your payment. You can choose whichever convenience store is nearest to you. The machines you use to make your payments will differ slightly, but the overall process will be similar.
STEP 1: Jot Down Your Payment Receipt Number From Your Email
STEP 2: Touch the 'Kakushu Bango' Button on the Left
Step 3: Go to the convenience store you selected when you chose your exam (From Part Two of this tutorial)
Step 4: Enter Your Payment Receipt Number
Step 5: Enter Your Phone Number
Step 6: On the Payment Screen Touch the 'Ryoukai' Button

Step 7: Take Your Payment Slip to the Register
Step 8: Pay
Step 9: Check Your Email For Confirmation
YOU ARE OFFICIALLY REGISTERED FOR THE JLPT!! HOORAY!
Payment Troubleshooting
If you run into any issues while trying to get registered for your exam, i.e. you can't make heads or tails of the machine you're using. Tell the convenience clerk:"インタネットで日本語の試験をサインアップをしました。このコンビニで払いたい。ロッピーはどうやって使いますか?""Intanetto de Nihongo no shiken wo sainup wo shimashita. Koko de haraitai. Doyatte Loppi wo tsukaimasu ka?"
One More Tip
It's ALWAYS better to register in advance because everyone and their mother tries to register at the last minute. That last thing you wanna end up with is this message just as registration is about to close:
Three Advantages of Online Registration
There are several reasons why online registration through might be the way to go:
Finding out what your scores are before the result certificates are mailed out
Who doesn't want to find out what their scores are as soon as possible? If you're already registered online, you'll be able to find out your results as soon as their available instead of pacing the floor, day after day, waiting for that little piece of paper to get to you.
Having certificates reissued if you misplace them,
The certificates you receive when you pass your exam aren't very big, so if you do happen to lose your certificate, you can get it reissued through this online system.
It's Easier and faster
Being in the MyJLPT system makes signing up for the next exam becomes that much easier. It also saves you time, especially if you're rushing to meet the registration deadline.
Are You Taking the JLPT This Year? If So, Which Level?
Please feel free to sound off in the comments section below.
The following two tabs change content below.
Donald Ash is an ATLien expat who has been living in a Japanese time warp for the last six years. While in aforesaid time warp, he discovered that he absolutely loves writing, blogging, and sharing. Donald is the creator, writer, designer, editor, programmer, and occasional bad artist of
thejapanguy.com
blog (that's just way too many hats, dude). Wanna know more about this guy? Check out his
"What's Your Story"
page.