Looks like it's that time again. It's time to register for the Japanese Language Proficiency Test.

In this tutorial, we'll cover, step-by-step, how to register for the JLPT online (here in Japan).
The JLPT is the standard many foreigners use to measure their Japanese chops. This exam tests your vocabulary, kanji, grammar, listening and reading knowlege. Oddly enough, though, it doesn't test the main indicator of how good your Japanese is - how well you speak (at the time of this writing).
While it's not the final say in how good your Japanese is, many of the skills that the JLPT tests can be closely linked to your speaking skills.
ARE YOU READY? LET'S SIGN UP!
Whether you're taking the N5 (beginner level) or the N1 ( crazy, advanced level), there are three basic parts of the registration process:


1. Get Your "MyJLPT ID"

2. Register Online

3.Pay the JLPT Registration Fee
Although some of three basic parts will have more steps than others, don't get caught up in the mini steps. This should be quick, clean, and easy.
Let's go through it together:
1. REGISTER FOR THE JLPT ONLINE - GET YOUR "MY JLPT ID"
Initially, I thought online registration was going to be a lot harder than it really was. The hardest part is that the JEES website sucks. Sorry to say it, but it's true. Not only is it outdated, but it's not intuitive. This tutorial will make the process easier for you than JEES will.

Beyond that, though, if you can find a website on the internet, locate your nearest convenience store, press some buttons, and make a payment at a convenience store counter, you too should be alble to sign up for the JLPT with no problems.
Step One: Visit the JEES Website
Going to directly to this link is a good idea, because the JEES website can really take you in circles if you don't know what to look for. If you're registering as you're reading this, I recommend opening this link in a new tab and following along.
Step Two: Individual Or Group Registration?
Most of you reading this will be signing up as individuals. But if you're signing up ten or more people, there is a group registration option if you need it. For now, we're going to select the "Individual" registration option.
Step Three: Choose Your Language
We're just going to go with the English option for the sake of keeping this tutorial as simple as possible. But choose the language that's the best option for you!
Step Four: Fill Out The MyJLPT Registration Form
Prior to filling this out, you will have to agree to the JEES terms of service, but once you do, you'll be directed to this form. Be sure to fill it out accurately. The last thing you want to do is to have your info sent to the wrong place .
Step Five: Double Check Your Personal Info
If everything is good, let's keep going!
Step Six: Check Your Email for Your JLPT ID
2. REGISTER FOR THE JLPT: ONLINE REGISTRATION
STEP 1: Select the 'Login' Option
STEP 2: Enter Your MyJLPT ID & Password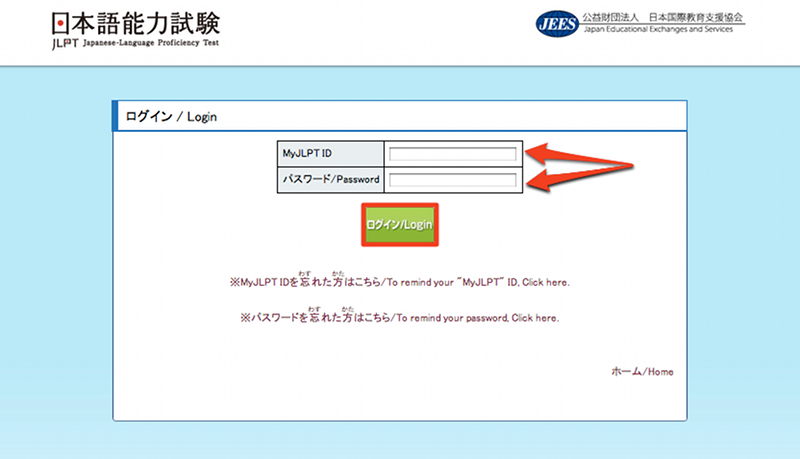 STEP 3 Click the 'Examination Application Tab
STEP 4: Agree To the Privacy Policy
STEP 5: Choose your level & Complete the Registration Form
STEP 6: Don't Forget Your Photo!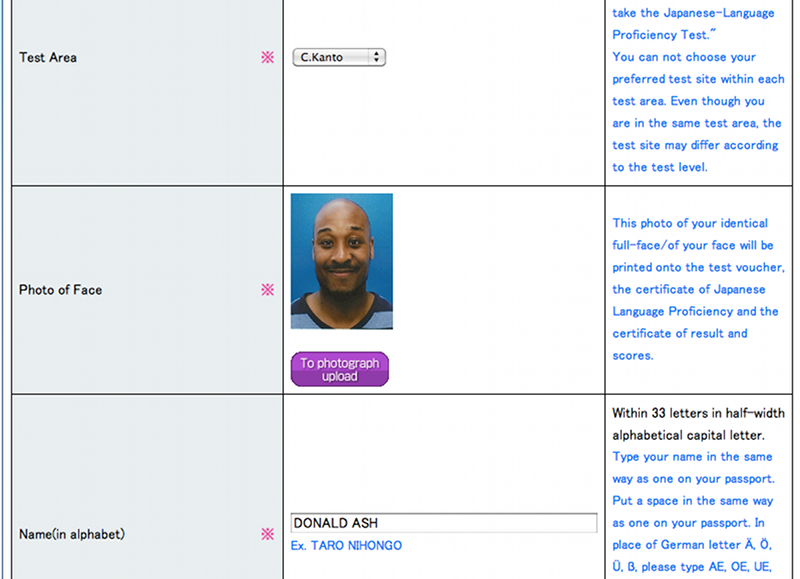 STEP 7: Choose a Payment Method
STEP 8: Select Your Nearest Convenience Store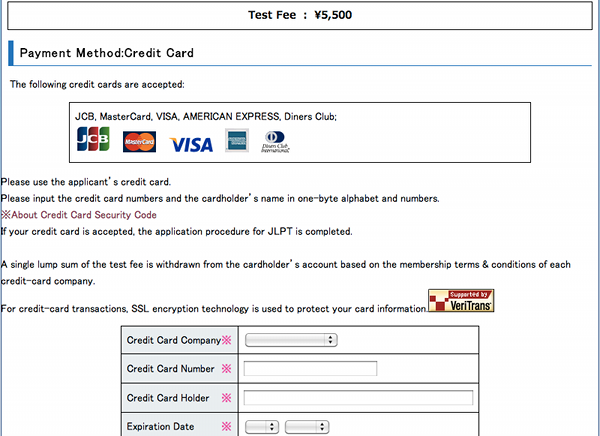 STEP 9: Confirm Your Test Info



Although it's not pictured here, the confirmation page will simply show you all of the information that you've entered. Double-check or even triple check to make sure you've entered the right information (namely the test level and your address).
STEP 10: Your Online Application is Complete
3. REGISTER FOR THE JLPT ONLINE : PAYING FOR YOUR JLPT TEST
For this particular example I'm going to use Lawson's Loppi system to show how to make your payment. You can choose whichever convenience store is nearest to you. The machines you use to make your payments will differ slightly, but the overall process will be similar.
STEP 1: Jot Down Your Payment Receipt Number From Your Email
STEP 2: Touch the 'Kakushu Bango' Button on the Left
Step 3: Go to the convenience store you selected
When you were choosing your exam (From Part Two of this tutorial)
Step 4: Enter Your Payment Receipt Number
Step 5: Enter Your Phone Number
Step 6: On the Payment Screen Touch the 'Ryoukai' Button

Step 7: Take Your Payment Slip to the Register
Step 8: Pay
Step 9: Check Your Email For Confirmation
YOU ARE OFFICIALLY REGISTERED FOR THE JLPT!! HOORAY!
Payment Troubleshooting
If you run into any issues while trying to get registered for your exam, i.e. you can't make heads or tails of the machine you're using. Tell the convenience clerk:"インタネットで日本語の試験をサインアップをしました。このコンビニで払いたい。ロッピーはどうやって使いますか?""Intanetto de Nihongo no shiken wo sainup wo shimashita. Koko de haraitai. Doyatte Loppi wo tsukaimasu ka?"
One More Tip
It's ALWAYS better to register in advance because everyone and their mother tries to register at the last minute. That last thing you wanna end up with is this message just as registration is about to close:
Three Advantages of Online Registration
There are several reasons why online registration through might be the way to go:
Finding out what your scores are before the result certificates are mailed out
Who doesn't want to find out what their scores are as soon as possible? If you're already registered online, you'll be able to find out your results as soon as their available instead of pacing the floor, day after day, waiting for that little piece of paper to get to you.
Having certificates reissued if you misplace them,
The certificates you receive when you pass your exam aren't very big, so if you do happen to lose your certificate, you can get it reissued through this online system.
It's Easier and faster
Being in the MyJLPT system makes signing up for the next exam becomes that much easier. It also saves you time, especially if you're rushing to meet the registration deadline.
Are You Taking the JLPT This Year? If So, Which Level?
Please feel free to sound off in the comments section below.