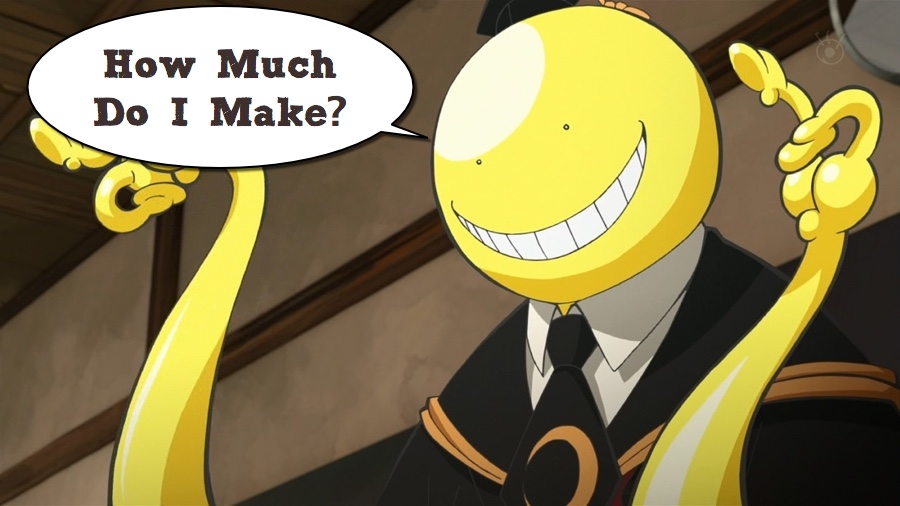 Anybody ever have "Career Day" in elementary school? If not, Career Day was a chance for guest speakers to come to a school to talk about what they do for a living.  This would give kids an idea of the possibilities, of what they could be, what they could do with their lives.  I always appreciated how our school would bring in successful, apparently anyway, role models from the work force.  I remember being fascinated by the dentist who came in with the plastic mold of teeth and gums.  I don't ever remember a wild-eyed parent coming in shrieking "I earn minimum wage at Wendy's and my life sucks! This is the future for you kids…YOU'RE DOOMED!" just before the gym coach and several administrators subdue him and inject him with a mild sedative "Shhhh…it's okay, Mr. Smith…it's okay."

It's been a while since those days, but I always remember the teachers giving us the rundown before one of our classmate's successful parents would come in to speak.    What was the question that everybody was told not to ask? You know one. And without fail, some kid who wasn't paying a dang bit of attention would raise their hand, with that childlike aloofness, and ask "How much do you make?" (The camera pans across all of the kids, mouths pursed and wide-eyed, over to the teacher whose head snaps toward her student.  She gives him "I'm-gonna-kill-you-as-soon-as-he's-done-speaking" look.
Some of the most common teach-in-Japan related questions I get are related to cost of living and salary.  Can you blame anybody for asking these question?  People coming here for the first time, I was no exception, worry about surviving in Japan. For those who haven't read my about me page…I was forced to file bankruptcy after a getting caught up in a rather unpleasant business scam in the U.S. (glad that's over).  Despite a bad financial situation, I was more worried about flying into the unknown, starting from scratch than I was about being bankrupt in my home country.
Yes, salary questions can be taboo for most people and  many shy away from discussing them. Fortunately, I'm not most people, so let's talk money, let's talk about how much I was earning as eikaiwa teacher here in Japan.
I know my salary doesn't put me in the wealthy tax bracket, but I'm able to comfortably enjoy my life in Japan, and I'm not struggling for a whole lot.  Sure I would love to be wealthy, but until I figure out my millionaire idea, I'm earning a teachers salary:
(Journaled December 2010)
I've been at my teaching job for three years and my salary has increased every one of those years. I have maxed out the amount of bonus money I can receive from AEON, but I'm not sure whether or not I've maxed out the number of pay raises.
I've forgotten what my salary cap will be (but I'm certain there is one). So here is my salary progression so far, and for a single guy living here in Japan, it's plenty.
I have had five contracts in the last three years, because after your first full year, you can choose the amount of time that you want to extend.
My 1st contract:
With these salaries, too, you have to take exchange rates into account. If the there are 100 yen to the dollar, then I my salary range would be 2700 USD/month to 2970 USD/month. But if you consider current exchange rates (82.28 yen to the dollar), your salary would be worth far more. Actually during this time, when the yen is so strong, I actually make money when I send funds to my US bank account to pay bills.
With the current exchange rate,
instead of my salary ranging from $2700-$2970 per month (first salary in dollars – current salary in dollars | at the ¥100/$1.00 rate)
it's more like $3282 -$3610 (current USD equivalent of 270,000 yen – current USD equivalent of 297,000 yen).
As of late*, exchange rates have been working out pretty nicely in your favor if you're a foreigner living in Japan.
*This post was created back in 2010, 2015 exchange rates are waaaaay different! I'd be happy to get one dollar for every 100 yen I sent home.
---
Hopefully this gives you an idea of what an Eikaiwa salary might look like if you choose to go that route. I know that I'm about to take a pretty significant pay cut to go and work in the public school system, but if it means improving my Japanese and having more time to experience real Japanese culture, I'm all in.