There was an article last week a while back about teaching salaries in Japan that I wanted to revisit. Reason being that there was a part of that article that I didn't address: Is it expensive to live in Japan? Well, to answer this question you have to consider a number of different factors, just like you would living in America, Australia, Britain, or any other country. To put it simply, yes…it can be…depending on where you live. Living in major cities, in or around major transportation hubs, near schools, or upscale areas can significantly affect your living costs (primarily housing costs).
INITIAL EXPENSES
I don't have much to compare my cost of living to, because I've only lived in Ibaraki, but I do know apartments the same size as mine (not all that big to be honest) would cost at least 20,000 yen more…if you get a good deal. Here's a copy of one of my latest pay stubs, and it shows the expenses that come out of my check before I even get it: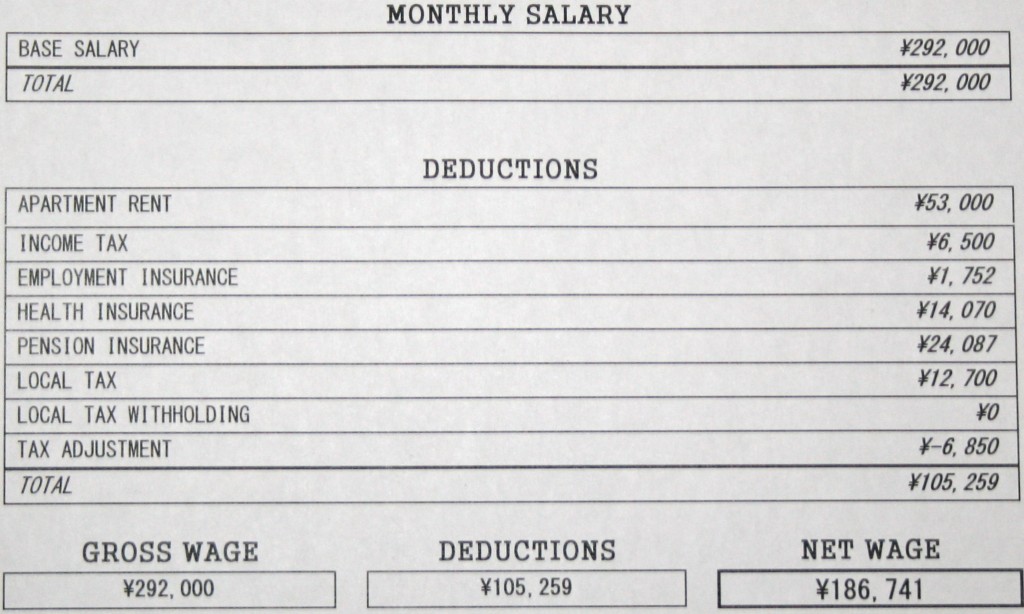 As you can see, my rent costs me 53,000 yen,
Income Tax ¥6,500
Employment Insurance ¥1,752
Health Insurance ¥14,070
Pension Insurance ¥24,087
Local Tax ¥12,700
TOTAL: ¥112,109
The tax adjustment of -6850 doesn't usually happen (I'm assuming it did because it's the last check of the year). So please overlook that. Generally I kick off my month with ¥112,109 in expenses, bringing my ¥292,000 wage down to ¥179,891 or somewhere in that area.
BILLS
In addition to housing, what else do we need to consider when living in Japan? Gas bills, water bills, internet, electricity, groceries, etc.. These expenses for me haven't been very high, because I try to save energy whenever and where ever I can. For example, it's now a normal thing to turn on the shower, get my washcloth nice and soapy, and then turn off the water as I lather up, I dry my laundry (like most people do in Japan), and when I sleep (usually), I turn my air conditioner off, or during those winter months, using a space heater may cut some costs here and there.
The Essentials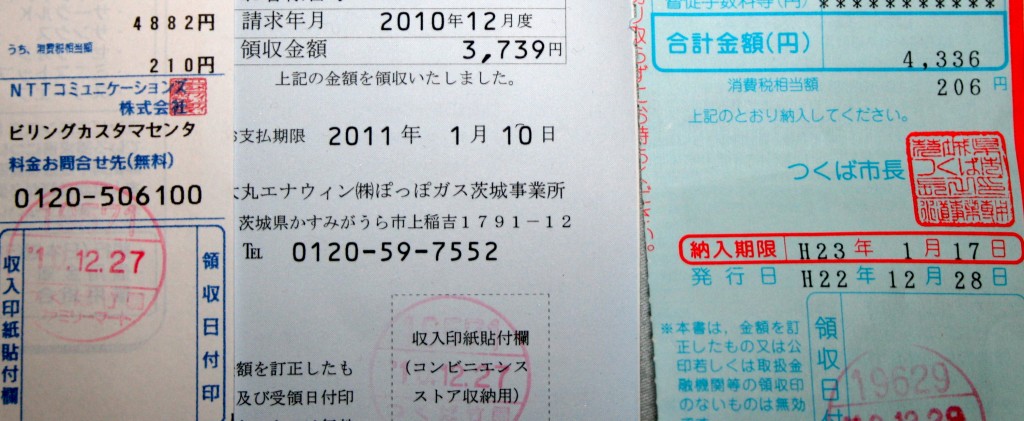 Internet: ¥4882 (fixed price)
Gas: ¥3739
Water: ¥4336
TOTAL: ¥12,957
¥179891-¥12,957= ¥166,934
Other Bills
ACT Gym Membership: ¥3675 (fixed)
Kyokushin Membership: ¥8400 (fixed)
Softbank Cell Phone Provider: ¥3833 (usually lower)
TOTAL: ¥15,908
¥166,934-¥15,908=¥151,026
MISCELLANEOUS/OVERSEAS EXPENSES
Hmm…what else? I do have to pay student loans, which run about 30,000 yen per month, and I like to put an extra 10,000 into my US bank for a bit of a "cushion."
¥151,026-¥40,000
leaving me with ¥111,026
and groceries run me anywhere between ¥50,000 and ¥60,000 per month (if I'm taking my protein supplements). So if we use ¥55,000 as my figure, I'm left with
¥56,026.
Going the Tokyo two or three times in a month can easily reduce this amount by half, but honestly I don't go to Tokyo all that often.
When all is said and done, I would usually have between 20000 and 40000 yen leftover, which is great for savings or investing (which is what I generally do, but not in recent months, since I'm moving).
The final synopsis, here in Ibaraki, although my salary's not the highest in the world…it's not as expensive to live here as you might think…it's totally do-able, and if I can do it…guess what? It'll be no problem for you!!
Donald Ash